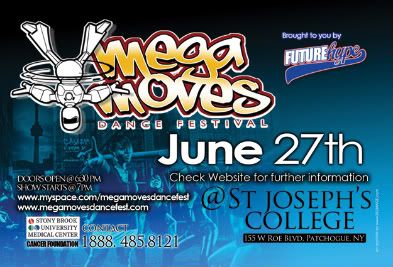 For those who love watching America's Best Dance Crew, this event is for you. Mega Move's will be taking place at St. Josephs College. It's a dance competition that consist of dance routines and overall flava. A prize will be given out to the winning crew. At the end of the night Status Quo, Super Crew, and Ringmasters from season 2 & 3 will be in the building giving us a huge performance. Also, special guest Busta Rhymes will be there as well. Don't miss out on this crazy event, cause The Bistro Crew definitely won't.
Charity
: Stony Brook Children Cancer Center
Date
: June 27, 2009
Time
: 6:30pm to 10:00pm
Place
: St. Joseph's College (Patchogue, Long Island)
Performing
: Busta Rhymes , MTV's Americas best dance crew-Super Crew, Status Quo, and the RingMasters. DisJockee Astra 106.1 WBLI.
More Info: www.megamovesdancefest.com *Tickets are now being sold at Sneaker Bistro.
**For more information, give us a call. 631-730-7132