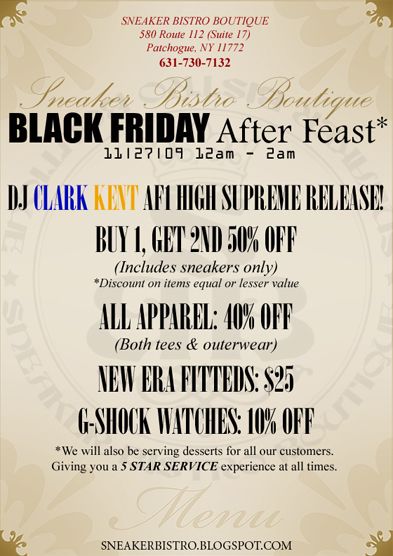 It's that time of the year once again ladies and gents! Last years Black Friday sale was great, but this years sale is going to be CRAZY!
Sneaker Bistro will be opening up the shop after Thanksgiving dinner from 12am - 2am. Not only are we having a sale, but we will also be releasing the
DJ Clark Kent AF1 High Supreme
. Pairs are real limited, so make sure you don't catch the itis and miss out on the release.
Here is what's going down from 12am - 2am:
-Buy 1 pair of kicks, get the 2nd pair 50% off
-All apparel (Tees & Outerwear): 40% off
-New Era fitteds: $25
-G Shock watches: 10% off
*These discounts are not included with our 50% off sneaker & $10 tee stack.
Now, for those who won't be able to make it from 12am - 2am, no worries. We will still be running a sale during our regular hours from 12pm - 10pm. Here is the sale going on for those hours:
-All kicks: 10% - 50% off
-New Era fitteds: $30 - $40
-All tees: 30% off
-All outerwear: 20% off
-G Shock watches: 10% off
For those who want to look fresh for the winter, or get some dope Christmas gift, you won't want to miss out on this sale. We will also be serving our customers desserts while they do their shopping during the
After Feast
, giving you an official 5 Star Service experience.
*Give us a call for more information. 631-730-7132