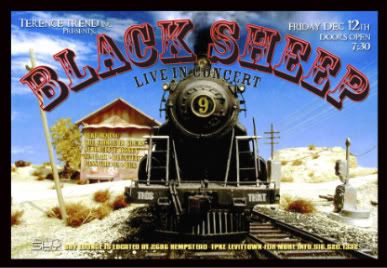 *Words by Peter Verry.
NATIVE TONGUE MEMBERS BLACK SHEEP, LIVE ON STAGE AT THE SHY LOUNGE!
Engine #9 is making a stop on Long Island on Friday, December 12, as Terence Trend Inc. presents the world-renowned Black Sheep at the Shy Lounge in Levittown, NY.
The Native Tongue alums have released some of hip hop's timeless classics, from "Strobelite Honey" to "Flavor Of The Month," and the ever popular, frequently sampled "The Choice Is Yours," which has been infamously featured on the Fat Man Scoop party-break record "Be Faithful (Put Ya Hands Up)" and was listed number 73 on VH1's 100 Greatest Songs of Hip Hop. All who attend will be able to see those and many more performed live.
Behind the wheels-of-steel all night are DJ Monk and DJ Omar, spinning the best in hip hop, house, reggae, funk and soul. Opening acts for the event include Ancient Tongue, Lem Payne, Cloud 9 and Harold Trousers.
In order to attend the event you must be 18, and as always it's 21 to drink.
Tickets can be purchased at The Cop Shop in Smithtown, NY (631-360-9700/copshophiphop.com) and Utopia in Hicksville (516-935-6680).